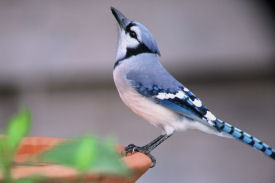 Click the arrow to hear the jay!

Feeding good seed at this time of year is critical. We have heard that birds have really been eating. As winter is ending (yeah!) natural seed is scarce.  So help out the birds, and feed seeds, mixes, peanuts. suet, and fruit.

Don't forget the peanuts....in or out of the shell. I have really enjoyed my peanut feeders this season. There is no mess under the feeders and I get a great variety of birds!

.

Support Service Dogs

As you know we raise Canine Companions for Independence. Seth III is our newest golden  retriever (12th) that will attend the Miracles@Milano with us.

Sunday  March 23  4:30- 5. Italian Buffet, Tim Wright will be playing, Fun Silent Auction. For tickets go to www.brownpapertickets.com / Miracles@Milano

Straw Bale Gardening Workshop

April 12, Saturday

11:00 and 1:00

Learn how to garden anywhere in the sun. Just put out a straw bale and plant

tomatoes and other veggies!

You can also bales that day for pick up at Backyard Birds.

Call to reserve a spot 255-7333.